Maestra Spotlight: Blanca Soto
Maestra Blanca Araceli Soto is a veteran and accomplished actress, choreographer, director, producer and dancer. Her passion for the performing arts led her to study theater and dance at the University of Guadalajara, in her home-town.  As a dancer, she has 40 years of experience working with international dance companies such as: Ballet Folklorico del Instituto Cultural Cabañas, Ballet Folklorico de Mexico de Amalia Hernandez, Floricanto U.S.A., Los Angeles Mexican Dance Company, among others. Since 1996, Blanca Araceli has been the director and choreographer of Tierra Blanca Dance Company where she delights in creating a unique expression with her work based on the music and history from Mexico and Latinos in the USA. Maestra Blanca has created several cultural programs to support local folk dances such as Semblanza Latinoamericana, Crónicas de México, to name a few.
At DUF 2017
Theater Dance Drama (Ages 18+)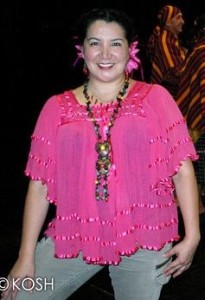 "Historias y leyendas de México a travez de la danza- escénica" Maestra Blanca Soto will present a multi-disciplinary approach to staging "Stories and Legends of Mexico Through Theater Dance". How will you tell your story? Which elements are necessary? Where does one begin? A different type of workshop; this class is a place where creativity and imagination combine with music and dance to uniquely express the history, myths & legends of Mexico. All you need is dedication, love and deliverance! Mark your legacy. Class will include: history, dance, theater & poetry. This class is recommended for students ages 18+, with a minimum of 3 years of experience.
Una Historia, un mito o una leyenda…como contarla ? Que elementos usar? Como comenzar? Un taller diferente; donde la Creatividad e imaginación combinada con la música y la danza pueden contar las historias, mitos y leyendas de México de manera única. Solo hay que poner dedicación, amor y entrega! Deja tu legado con sello propio. Taller incluye Historia, danza, teatro y poesía. Para mayores de 18 años con experiencia dancistica minima de tres años.
DUF 2017 "Alma Indigena" will take place on April 7, 8 & 9 in Fresno, CA. 
$ave on registration fees by enrolling early!
Early Registration now through 12/20/16
Regular Registration 12/21/16 through 2/8/17
Late Registration 2/9/17 through 3/30/17
or