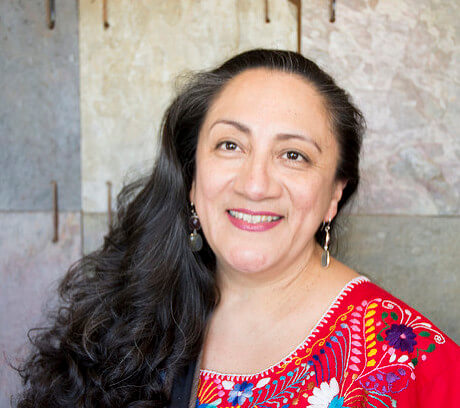 Maria Luisa Colmenarez, Danzantes Unidos Festival Director
For over 45 years, cultural "artivist" Maria Luisa Colmenarez has played a large role in ensuring Mexican folk dance remains accessible to the community while advocating for a larger presence in the performing arts space. She currently serves as the Executive Director of Danzantes Unidos de California, a cultural network of Mexican folk dancers and artists which plans the largest Mexican folk dance festival in the U.S., Danzantes Unidos Festival, and facilitates ​a wide variety of Mexican folk dance and cultural programming. Ms. Colmenarez is a lecturer at San Jose State University, and the co-founder and artistic director of San ​Jose's "La Ultima Parada: A Celebration of Life on the Day of the Dead." Additionally, she served as a cultural consultant for the award-winning Disney/Pixar film, "Coco."
Ms. Colmenarez participated in the former California Arts Council's ​Artist-in-Residence program and served as a Dance Grant Panelist, and ​was awarded an NEA Folk Arts grant. She is a member of the National Association of Latinos in Arts and Culture (NALAC) and graduate of its inaugural Leadership Institute. As a member of the inaugural class, Ms. Colmenarez graduated from the Multicultural Arts Leadership Initiative sponsored by 1st Act Silicon Valley.
Her credits as an artistic director and choreographer include: Artistic Director ​of Grupo Mizoc de Sacramento; Danzantes del Alma de UC Davis; Folklorico Latino de Woodland; Los Lupenos; and Alegria de San Jose. She served as dance faculty member of the International Mariachi Conference in Las Cruces, New Mexico and the International Mariachi Festival in San Jose, California.
She co-authored, with Nicole Fravel, the PeeWee Mariachi Curriculum for the Mexican Heritage Corporation and Children's Discovery Museum of San Jose with support from FIRST 5 of Santa Clara County. Performance highlights include: serving as Dance Captain with Linda Ronstadt's 'Mas Canciones' Tour; the pro-omnibus performance at Candlestick Park for Pope John Paul II; six seasons as a performer at the San Francisco Ethnic Dance Festival; and Artist-in-Residence and performer for the Hawaiian Ethnic Dance Festival in Oahu.
A life-long learner, Ms. Colmenarez is a student of visual art and has received awards for her ceramic, glass, and bronze sculptures.  She is an avid gardener and enjoys get-togethers and celebrations with friends and family.
#DanceEducation #MariaLuisaColmenarez #MexicanFolkDance #Folklorico